waskolet
14

June 26th, 2005 + 2:06 PM
·

waskolet
trying on a 7/4 in tram 16 in my hometown of cologne, i stumbled over this kalimba melody.. when staffan put his saw to it, it reminded me instantly of flying birds, swallows and seagulls. not knowing the word for swallws in spanish, we stuck to gaviota . hope, you like as much as we do. any opinion is helpful for us, so, please, post your feedback!
Thanx to all!
1

June 23rd, 2005 + 8:06 PM
·

waskolet
pull the string of the spieluhr (what is it in english?) and dream away...
7

June 23rd, 2005 + 8:06 AM
·

waskolet
well, the guitar part of this piece i wrote to accompaign a monks tale in a play. then we chose it to be on "urubamba" but i had no idea, what to sing. until my mates said: just tell a story... so i just let flow, imaging being an old man, sitting on the bench of a carriage tracked by an old, lame horse, maybe telling a story to my grandson next to me, but merely talking to myself... in the distance of the steppe a solitary flute reminds me of my home..
palosanto is:
volker kacziski on flute&sax&recordingtools

daniel brück on tabla&darabuka&perc.&git.

staffan gettys on singing saw (not on this track; check out:"spieluhr")

waskhar schneider on voice&didge&kalimba&...&git on this track
thanx to all for critics, rating, and most of all LISTENING!!!
Alias:
waskolet

Status: Offline
Threads:
3
Posts:
8
Songs:
3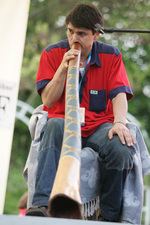 Joined: May 01st, 2005
Last login: May 19th, 2008
My Messengers
| | |
| --- | --- |
| AIM: | n/a |
| ICQ: | n/a |
| Skype: | n/a |